My name is Cllr Martin Schmierer and I am the current Lord Mayor of Norwich. Between 2016 and 2018, I was leader of the Green Party group on Norwich City Council.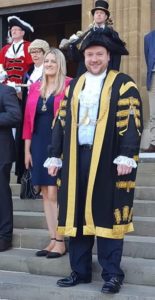 I am currently the Lord Mayor of Norwich which is a primarily ceremonial position but this role allows me to meet the many community and charity groups that work so hard to improve the lives of the most vulnerable in our society. I look forward to doing all I can to support them in their efforts over the coming year.
I have lived in Norfolk since 1994. I am a local councillor in Norwich for Mancroft ward which covers much of the city centre.
Since being elected in 2015, I have campaigned to make Norwich a fairer and cleaner city. It is unacceptable that, according to the last census, 41% of children in my ward live in poverty.
I will continue to present a strong independent-minded voice who will put the needs of local residents first and will ensure that more is done to involve communities in dealing with the issues they face.
Green Party councillors have a history of working hard for the residents they represent. Norwich elected its first Green Party councillor in 2002 and today the Green Party is the official opposition on Norwich City Council.
Please have a read of my vision for Norwich for Norwich and the latest updates about my work. Please also feel free to contact me with any questions or suggestions.