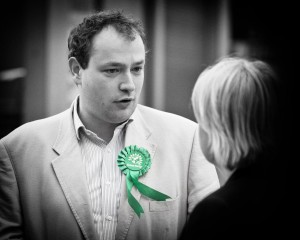 Martin Schmierer has been selected as the Green Party's candidate for Police and Crime Commissioner in Norfolk.
This is the first time the Green Party will be standing in Norfolk for the Police and Crime Commissioner election.
In 2012 the party stood in only one area – in Cleveland in the North East of England, where they won 13.7% of the vote.
Mr Schmierer, 29, is currently a city councillor in Norwich, where he is deputy leader of the Green group – the joint-largest group of Green Party councillors in the UK.
Prior to becoming a councillor, Mr Schmierer was researching the causes of the relatively low life expectancy in Glasgow and the impact local government can have on public health.
He is currently campaigning to reverse the cuts and privatisation in the police force, ensure greater transparency in policing and allow greater community participation in setting police priorities.
Martin Schmierer said:
"The Green Party has a distinctive voice on crime and justice which needs to be heard at this election. We see crime as part of the wider social issues that are affecting communities across the county, and we are strongly in favour of restorative justice where we work with both victims and offenders to give support where it is needed and prevent future crime. This approach has been shown to reduce reoffending rates."
He continued:
"This is obviously a very exciting time for the party as it is the first time we are standing in these elections here.

"A vote for the Green Party at this election is a vote for a fresh approach, and a strong, independent-minded voice. If elected, I will put the needs of local residents first and will ensure that more is done to involve communities in setting the Norfolk constabulary's priorities."