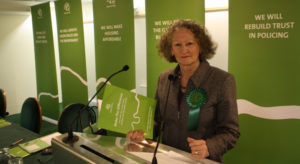 This Saturday, the Green Party will be unveiling their manifesto on "Policing in the East" alongside the the party's representative in the House of Lords, Baroness Jenny Jones.
The party's proposals are set to focus on ensuring the establishment of better communication between the community and local constabularies and ensuring that the Police and Crime Commissioner's office is more transparent to allow greater public awareness regarding what the post entails.
Specific plans include a greater emphasis on under-or-unreported crimes such as domestic violence and rural thefts, which the Green Party candidates have claimed is particularly important to many residents in Norfolk and Suffolk.
This is the first time the Green Party are putting forward candidates anywhere in the region.
In Norfolk, Martin Schmierer (a councillor in Norwich) is standing, while in Suffolk the candidate is Terence Carter.
Baroness Jenny Jones, who was formerly Deputy Mayor of London explained:
"I'm really delighted to support the Green Party's campaign in Norwich where we optimistic about the local elections, but also across Norfolk and Suffolk in the Police and Crime Commissioner elections.
"In my time as Deputy Mayor of London and while on the Metropolitan Police Authority I was proud to achieve improvements to traffic policing and public communication with the Metropolitan Police. This demonstrates that the Green Party can have a positive impact in regard to crime and justice related issues.
She continued:
"I am confident that if elected the Green Party's PCC candidates for Norfolk and Suffolk will be able to ensure that we have more community policing, we take action against the drug gangs not drug users and more emphasis is placed on unreported/under-reported crimes, such as domestic violence and rural thefts, as outlined in the manifesto to be unveiled on Saturday."
The launch will happen at 12pm on Saturday 23rd April at:
The Belvedere Centre
Belvoir Street, Norwich
Norfolk
NR2 3AZ